Shillong, Jul 9: Sawmer seized a last-gasp win against Nangkiew Irat in their U-18 Shillong Premier League match here today to strengthen their chances of reaching the final.
Rapborlang Marwein put Sawmer up in the 19th minute with his third goal of the season. Sumarbha Bareh, however, equalised for Nangkiew in the 37th minute via a penalty after an infraction in the box.
The next 50 minutes went without a goal in the warm conditions before Fernando Sohkhlet netted his first goal of the campaign in the 89th minute to give Sawmer victory.
The late goal shouldn't have come as much of a surprise as Nangkiew have conceded nine second half goals this season, more than any other club bar bottom team Malki (11).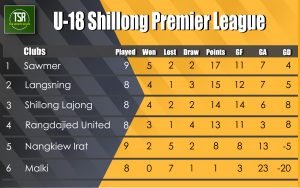 Even before this game Nangkiew were already without a shot at reaching the top two and they are now unable even to improve on their fifth position. Sawmer, meanwhile, are back at the top of the standings, though for how long remains to be seen.
Tomorrow Rangdajied United will take on Malki at 3:45PM in a game the former need to win convincingly. Oddly enough, Malki have only scored three goals so far, while Rangdajied have conceded the same number. The reverse leg encounter between the two sides ended in RUFC's favour, 6-0.