Shillong, Jul 11: Shillong Lajong will not be able to defend their U-18 Shillong Premier League title this year after losing to Langsning 2-1 here today, which makes it impossible for them to qualify for the final.
This was also the same scoreline that Langsning won by in the reverse fixture on 23rd June.
The result also means that Langsning, last year's runners-up, are guaranteed a place in the title match as they are sure to finish in the top two.
Langsning took the lead with their fastest goal of the season in the sixth minute through their top scorer Figo Syndai (now with four goals to his name). Lajong have been guilty of conceding early goals of late – this is the third time in the last four games this season that they've gone behind in the first 10 minutes.
The deficit didn't last too long, however, with Freestar Kharbangar equalising for SLFC in the 24th minute.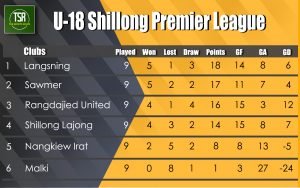 Then, on the hour mark, Lajong conceded an own goal to put Langsning ahead once again and there was no way back for SLFC.
After nine rounds Langsning are at the top of the table with 18 points. The last and final round of matches begins tomorrow, with second-placed Sawmer to face third-placed Rangdajied United at 3:45PM.
The two teams played out a goalless draw when last they met on 5th July and that result will suit Sawmer just fine again, while Rangdajied need to win to qualify for the final.
(Photo contributed by Shillong Lajong FC. Lajong are in red, Langsning in white)