Shillong, Jul 18: Laban came from three goals to one down to bag a point in a thrilling 3-3 draw with Nongkrem in the First Division today, but will be disappointed at not winning the game outright.
A clear foul in the box by a Laban player gave Nongkrem the early advantage and Shanbok Nongsiej converted the resulting penalty in the seventh minute.
However, in the first case of Nongkrem being a little lax after scoring, Bickyson Kharkongor of Laban equalised just three minutes later after a nice little one-two with team mate Joy Kharraswai saw him squeeze into the box and score low past the goalkeeper's right.
Laban then utterly dominated proceedings with Nongkrem practically unable to get into the opposition box, that is until they turned the game on its head with two quick goals in the 56th and 60th minutes.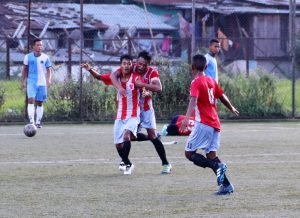 Laban were playing with a high defence that twice caught Nongkrem players in offside positions. However, the latter learnt their lesson and then timed their runs perfectly, beating the defenders to score via Kerbok Nongspung and Wallambok Kharpran.
Yet again, though, Nongkrem were caught napping after scoring and Victor Shadap (a new signing for Laban this season) headed in a cross in the 62nd minute to reduce the deficit.
Nongkrem then began to run the clock down, but didn't have enough of the possession to make this tactic work. Laban continued to press forward and their hard work paid off in the 84th minute when a shot on goal crashed into the crossbar and bounced down for the oncoming Shadap to tap the ball into the net.
The six goals today were close to the seven that were scored with the two sides met last season, but 2017's result was completely different – Laban had thrashed Nongkrem 7-0 that time, with Kharkongor bagging a hat-trick.
Tomorrow Rising FC will go up against Marbisu at 4PM.
Yesterday's result:
Sohryngkham 1 – 3 Nongrim Hills
(TSR photos. Nongkrem are in red & white, Laban in blue & white)