Shillong, Jul 28: After going winless last weekend, Mawlatbah SC Hawks pulled off three victories today in the Meghalaya Baby League 2018, while the unstoppable Langsning Greenergy Lions and Nongthymmai GC Scorpions won all of their matches.
Fifteen matches were held at three venues – Third Ground, the JN Stadium and the Futsal Ground – at the JN Sports Complex between six teams.
MBL 2018 is the joint initiative of Tata Trusts, the Meghalaya Football Association and All India Football Federation.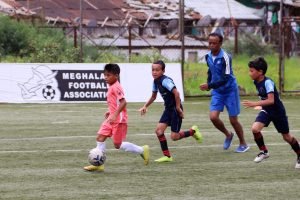 In the Western Conference the Hawks won their matches against the Unified Gorkha Gators in the 4-5, 6-7 and 12-13 age groups, while the 8-9 and 10-11 age group games ended in goalless draws.
There was plenty of rain in Shillong today, but that did not dampen the enthusiasm of the children, or of their parents and other well-wishers, who thronged Polo Ground and shouted their encouragement and advice and applauded the young, budding footballers.
ENE Falcons and Langsning Greenergy Lions are also in the Western Conference and the Greenergy Lions came through as winners in each age group as they continued their phenomenal MBL 2018 run – they have yet to lose a single match in the inaugural season.
The Scorpions of the Nongthymmai Grassroots Centre also had a fantastic day, winning all five of their outings against the JNS Jaguars.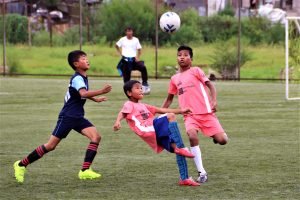 There was one rather close match between these two teams, namely in the 8-9 age group, where the Scorpions came through as narrow victors 2-1, but the other matches were won more comfortably.
The 10-11 age group match was particularly entertaining with 15 goals scored. Ten of these were scored by Nongthymmai, but the Jaguars also had their share of scoring opportunities and produced five goals.
(Photos contributed by the Meghalaya Football Association. Mawlatbah SC Hawks are in pink, Unified Gorkha Gators in blue)