Shillong, Aug 20: Langsning Greenergy Lions and Mawlatbah SC Hawks both won four of their five Meghalaya Baby League matches on Saturday, while Kickstart FCC Rhinos came back after losing their first two games to win the next three against Nongthymmai GC Scorpions.
Fifteen matches were held at two venues – Third Ground and the Futsal Ground – at the JN Sports Complex between six teams.
MBL 2018 is the joint initiative of Tata Trusts, the Meghalaya Football Association and All India Football Federation.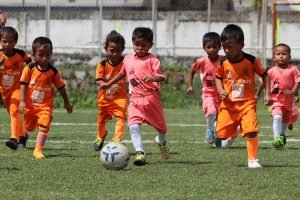 The only match that Langsning could not win against Touchline NE Cubs came in the 8-9 age group; the game finished even at 1-1.
Mawlatbah, meanwhile, won four but lost one to Nongtrai Cheetahs, who won 2-1 in the 8-9 category.
The Scorpions started proceedings well, winning in both the 4-5 and 6-7 age groups, but the Rhinos came back to win all the next three games in the other age categories.
(Photos contributed by the Meghalaya Football Association. The featured photo is of Langsning Greenergy Lions (red) vs Touchline NE Cubs (green))