Shillong, Au 27: Wahlakhiat Bulls won all of their five games against Unified Gorkha Gators on match day 11 of the Meghalaya Baby League 2018, which is the joint initiative of Tata Trusts, the Meghalaya Football Association and All India Football Federation, here on Saturday.
Apart from the Gators, all the other teams did manage to win at least one game.
Nothing separated Touchline NE Cubs and Mawlatbah SC Hawks as both sides won two matches each, while the 6-7 age group game ended 0-0.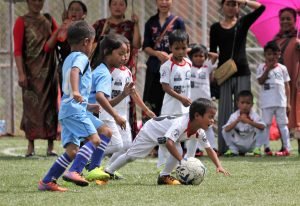 ENE Falcons and Sunnydale School Doves also started out with a draw in the 4-5 year category, but the Falcons were then able to win three out of the next four games, while the Doves were victorious in the 10-11 category.
Kickstart FCC Rhinos, meanwhile, were almost completely dominant against the JNS Jaguars, winning four out of five matches, some by handsome margins, but the Jaguars did manage to pick up one win, in the 6-7 year category game, which they won 4-3.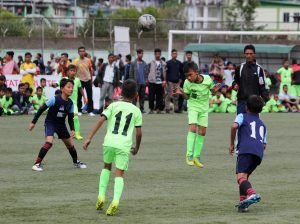 And, finally, it was also a close-run thing between Nongthymmai GC Scorpions and Little Star Clouded Leopards, with two matches ending in draws, while the Clouded Leopards claimed two narrow victories and Nongthymmai one convincing 6-0 win in the 4-5 age category.
(Photos contributed by the Meghalaya Football Association. The featured photo is of Mawlatbah SC Hawks (pink) vs Touchline NE Cubs (green))