Shillong, Sep 30: Keanean's United and Tur Shaphrang FC Malki were crowned champions of the women's and men's categories respectively of the 2nd Open Futsal Tournament 2018 here on Saturday evening.
The chief guest on the occasion of the finals was Sanbor Shullai, local MLA and Chairman of the Meghalaya Tourism Development Corporation. The guest of honour was Arki Nongrum, CEO of the Meghalaya Football Association. Members of various district futsal associations were also present on the occasion.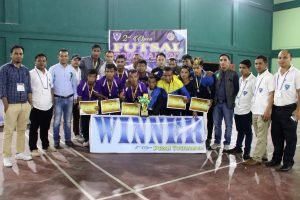 The tournament, which started on 25th September, was organised by the Futsal Association of Meghalaya (FAM) and held at the Laban Sports Club Indoor Stadium.
In his speech, FAM President Dr Brightstar Langbang said that the tournament was organised by FAM to promote the sport of futsal in Meghalaya with a message to all youth to say no to drugs and other intoxicating substances.
Nongrum appreciated the efforts of FAM in taking the initiative to hold the tournament and said that futsal is "very important to develop skills, which in turn will help the players to be good footballers."
Shullai also paid tribute to FAM for organising the tournament.
"I was a player in my early life. I started my career playing sports and hence I urge all of you, young boys and girls, to work hard with sincerity and may you have a good future," he added.
He also assured FAM of his assistance in promoting the sport for the benefit of the younger generation.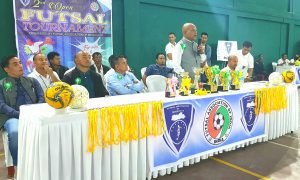 Both finals were between evenly-matched teams and were fast and exciting in the action they delivered.
In the women's final Board President XI scored an early goal by Sanki Sajem, but Keanean's United stormed back and took the win 3-1 thanks to a hat-trick by Nisilia Majaw, who was also named Women's Player of the Tournament.
Eight teams in all took part in the women's category and Keanean's United took home the winners' trophy and Rs 15,000 in prize money.
The men's final was an even closer affair, with Tur Shaphrang FC Malki taking the title over 7+3 Star Smit in a penalty shootout 3-2.
7+3 Star Smit took the lead thanks to a goal by Mangkara Kharbyngar, but this was cancelled out by Lamphrang Kharbuli's goal for Tur Shaphrang later on.
With full time ending level, a penalty shootout was used to separate the finalists and here Tur Shaphrang held their nerve to take victory.
7+3 Star's goalkeeper Maitshaphrang Kharumnuid was adjudged as the Men's Player of the Tournament.
There were 32 men's teams that entered the competition and Tur Shaphrang were awarded Rs 25,000 in prize money as well as the winners' trophy.
(Photos contributed by the Futsal Association of Meghalaya. The featured photo is of Keanean's United)