Shillong, Dec 16: Meghalaya won five gold, 10 silver and 27 bronze medals at the recently-concluded 6th NESKFI North East Karate Championship in Dimapur, it was revealed by the All Meghalaya Karate-Do Association today.
The championship ran from 10th to 12th December. Altogether 370 karatekas from the eight North East states, Assam Rifles and Arunachal Police participated.
All five of Meghalaya's gold medals came in kumite (sparring). The top karatekas were Ram Lanong, Lakhon Lanong, Loreenia Mawlong, Wandahunshisha Mawblei and Banylla Shallam. Ram Lanong also won a silver in kata (form) to go along with his gold, while Shallam also won two bronze in individual and team kata.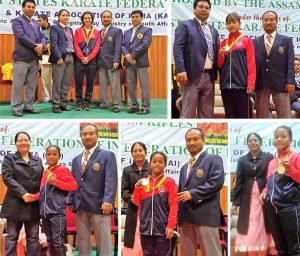 The 53-member contingent was accompanied by coach Arjun Sewa, coach Mingson Rymbai, manager Albertstar Kharkongor, manager Edilbert A Lyndem, technical official Donboklang Lyngdoh and technical official Damang Syngkon.
KARATEKAS
MEDAL
CATEGORY
KATA/ KUMITE
Ram Lanong
Gold
11 Yrs -30Kgs
Kumite
Lakhon Lanong
Gold
11 Yrs -35Kgs
Kumite
Loreenia Mawlong
Gold
10 Yrs +30Kgs
Kumite
Wandahunshisha Mawblei
Gold
Cadet -47 Kgs
Kumite
Banylla Shallam
Gold
Women -55 Kgs
Kumite
Ram Lanong
Silver
Male 11 years
Kata
John Basaiawmoit
Silver
Junior 16-17 Yrs
Kata
Freddy B Syiem
Silver
Junior -50 Kgs
Kumite
Jeremy Kurkalang
Silver
Junior -55 Kgs
Kumite
Glikerius Buhphang
Silver
Men -55 Kgs
Kumite
Isadora A Lyngdoh
Silver
Junior 16-17 Yrs
Kata
Isadora A Lyngdoh
Silver
14-18 Yrs
Team Kata
Elisheba Khongwar
Lawandashisha Muttyent
Elisheba Khongwar
Silver
Cadet -54 Kgs
Kumite
Ankita Koch
Silver
Women -68 Kgs
Kumite
Bandana Wahlang
Silver
Women +68 Kgs
Kumite
Gideon Tympuin
Bronze
Male 12 years
Kata
Gerard A Nongkhlaw
Bronze
Cadet 14-15 Yrs
Kata
John Basaiawmoit
Bronze
14-18 Yrs
Team Kata
Freddy B Syiem
Jeremy Kurkalang
Rodrick Syiem
Bronze
Men
Team Kata
Edwilbert Nongkynrih
Glikerius Buhphang
Badondor Ryntathiang
Bronze
10 Yrs -25Kgs
Kumite
Daniel D Warjri
Bronze
10 Yrs -30Kgs
Kumite
Damebanmerbha Blah
Bronze
12 Yrs -35Kgs
Kumite
Samebanmerbha Blah
Bronze
12 Yrs -40Kgs
Kumite
Damanbha Pde
Bronze
13 Yrs -40Kgs
Kumite
Zimeon Sun
Bronze
13 Yrs -45Kgs
Kumite
Ewansalan Dkhar
Bronze
13 Yrs +45Kgs
Kumite
Teiborlang Lapang
Bronze
Cadet -45 Kgs
Kumite
Albert Jyrwa
Bronze
Cadet -52 Kgs
Kumite
Bhawanchwadame L Mawphlang
Bronze
Cadet -57 Kgs
Kumite
Josanky Rympei
Bronze
Men -50 Kgs
Kumite
Elisheba Khongwar
Bronze
Cadet 14-15 Yrs
Kata
Banylla Shallam
Bronze
Senior +18 Yrs
Kata
Ankita Koch
Bronze
Women
Team Kata
Banylla Shallam
Barisha Kharbani
Nangbiangsaphi Mukhim
Bronze
10 Yrs -25Kgs
Kumite
Dayalangki Challam
Bronze
10 Yrs -30Kgs
Kumite
Stephanie Sun
Bronze
11 Yrs -35Kgs
Kumite
Aibiangpormika L Mawphlang
Bronze
12 Yrs -35Kgs
Kumite
Melvarica Kharbani
Bronze
12 Yrs -40Kgs
Kumite
Carenia Rapthap
Bronze
13 Yrs -45Kgs
Kumite
Rosezana Kharkongor
Bronze
13 Yrs +45Kgs
Kumite
Daiaikyntiew Wahlang
Bronze
Cadet -40 Kgs
Kumite
Eva Gracia Kharumnuid
Bronze
Junior -48 Kgs
Kumite
(Photos contributed by the All Meghalaya Karate-Do Association)