Shillong, May 9: Loreto Convent claimed two titles at the Inter-School Athletics meet for East Khasi Hills, which concluded here today.
Loreto were named the best team in the U-14 and U-18 girls' categories, winning two gold and two bronze in the former and three gold, four silver and one bronze in the latter.
The U-16 girls' title was won by St Mary's Higher Secondary School, which bagged six gold, two silver and three bronze medals.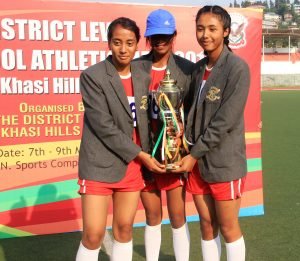 In the boys' division, Seven Huts Higher Secondary School (2G, 2S, 1B) won the U-14 title, Sacred Heart Boys Higher Secondary School (3G, 3S, 2B) won the U-16 title and St Anthony's Higher Secondary School (7G, 4S, 1B) the U-18 title.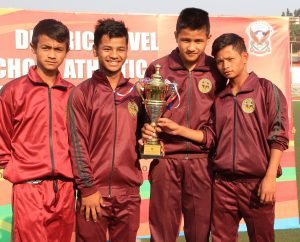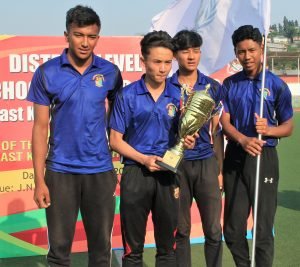 There were also individual awards for Best Athlete and these were won by Kyrsoilin Nongneng of Seven Huts (U-14 girls), Fernandel C Chyne of Seven Huts (U-14 boys), Angelina J Jackson of St Mary's (U-16 girls), Donbok Shabong of St Joseph's Higher Secondary School (U-16 boys), Glorify Kurbah of Shillong College (U-18 girls) and Khrawkupar Shabong of St Anthony's (U-18 boys).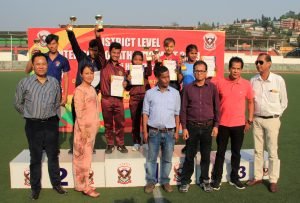 Meanwhile, BK Bajoria were named Best Disciplined Team.
More than 40 schools took part with the events ranging from field disciplines, such as shot put and the long jump, to a bevy of field events, with the 4x100m relay the climax on the final day.
The trophies on the final day were given away by the chief guest, Director of Sports & Youth Affairs Wanri Booth, Assistant Director of Sports & Youth Affairs JP Marak, East Khasi Hills District Sports Officer Daniel Dann and former East Khasi Hills DSO George Lyngdoh, among others.
The state-level athletics meet will begin at the end of this month.
(TSR photos)