Shillong, May 29: Five new meet records were set on the opening day of the State-Level Chief Minister's Inter-School Athletic Meet 2019 at the JN Sports Complex, Polo, here today.
In the morning Abdul Hannan Dhar (East Jaintia Hills) recorded a distance of 31.13m, more than three metres over his closest opponent, in the U-18 boys' discus throw.
The other four records were all set by athletes from Ri-Bhoi. First, Medarisha Klein set a height of 1.45m in the U-18 girls' high jump and her team mate Linen Ingti then recorded a distance of 8.46m in the U-18 girls' shot put.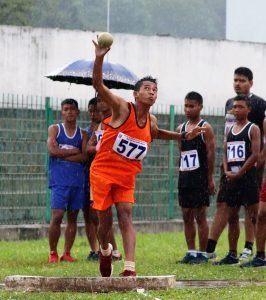 Another shot put record was broken in the U-16 boys' division, with Twinstar Lyngdoh setting a distance of 10.64m. Finally, in the long jump, Joytiful Narlong recorded a distance of 4.39m in the U-14 girls' division.
The action continues tomorrow and will conclude on Friday.
1st day results:
| | | | |
| --- | --- | --- | --- |
| Event | Position) Athlete | District | Result |
| Discus | 1) Abdul Hannan Dhar | East Jaintia | 31.13m |
| U-18 boys | 2) Nirmal Rabha | North Garo | 28.12m |
| | 3) Dondeswar Rabha | North Garo | 28.05m |
| | | | |
| High Jump | 1) Medarisha Klein | Ri-Bhoi | 1.45m |
| U-18 girls | 2) Aveleyne F Warjri | East Khasi | 1.37m |
| | 3) Benihun Lyngkhoi | West Khasi | 1.33m |
| | | | |
| Long Jump | 1) Hawamabha Pyngrope | West Khasi | 4.86m |
| U-14 boys | 2) Chesan A Marak | East Garo | 4.85m |
| | 3) Bijubirth N Sangma | North Garo | 4.76m |
| | | | |
| Shot Put | 1) Linen Ingti | Ri-Bhoi | 8.46m |
| U-18 girls | 2) Deiphibashawa Nongsiej | East Khasi | 8.35m |
| | 3) Senebi Syngkli | Ri-Bhoi | 8.12m |
| | | | |
| High Jump | 1) Anusha Mahajong | Ri-Bhoi | 1.38m |
| U-14 girls | 2) Anrisha Klein | Ri-Bhoi | 1.36m |
| | 3) Pynbhalangki Rymbai | East Jaintia | 1.21m |
| | | | |
| Javelin | 1) Prachi G Momin | North Garo | 26.30m |
| U-18 girls | 2) Jimbetdi G Momin | North Garo | 25.58m |
| | 3) Fermite M Sangma | South West Khasi | 22.68m |
| | | | |
| Long Jump | 1) Primus Ronghi | Ri-Bhoi | 5.76m |
| U-16 boys | 2) Jopkupar Kharbani | West Khasi | 5.67m |
| | 3) Amit Marwet | Ri-Bhoi | 5.56m |
| | | | |
| Long Jump | 1) Joytiful Narlong | Ri-Bhoi | 4.39m |
| U-14 girls | 2) Jessica G Momin | East Khasi | 3.94m |
| | 3) Wanda Lyngkhoi | West Khasi | 3.93m |
| | | | |
| Shot Put | 1) Twinstar Lyngdoh | Ri-Bhoi | 10.64m |
| U-16 boys | 2) Donnam Syiem | Ri-Bhoi | 10.19m |
| | 3) M Malemnganba Singh | East Khasi | 9.76m |
| | | | |
| Discus | 1) Linen Ingti | Ri-Bhoi | 20.47m |
| U-18 girls | 2) Manhaka Rabon | West Jaintia | 19.67m |
| | 3) Priyanka Latam | West Jaintia | 18.18m |
| | | | |
| 3000m | 1) Mebarisha Lyngdoh | West Khasi | 12:28.46 min |
| U-18 girls | 2) Sunitalin Kharjahrin | South West Khasi | 12:58.36 min |
| | 3) Ribity Sana | East Jaintia | 13:24.58 min |
| | | | |
| 3000m | 1) Rubi Sana | East Jaintia | 9:39.77 min |
| U-18 boys | 2) Hepstarly Lyngkhoi | East Khasi | 9:42.69 min |
| | 3) Shainingstar Marwein | South West Khasi | 9:46.54 min |
| | | | |
| Javelin | 1) Mol Syngkli | Ri-Bhoi | 42.95m |
| U-16 boys | 2) M Malemnganba Singh | East Khasi | 39.55m |
| | 3) Chanangbirth R Marak | North Garo | 38.92m |
(TSR photos)