Shillong, Sep 2: Jongksha won their last Group B game in the Second Division 2-1 over Riatsamthiah at Third Ground, Polo, here today.
All three goals came in the second half with Jongksha scoring through W Rynjah (67′) and Isharwell Mukhim (80′), while Riatsamthiah pulled one back via Superfine Suting in the 85th minute.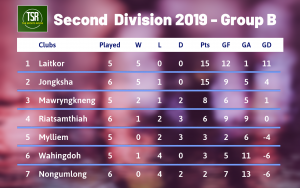 Jongksha were already guaranteed second place even before this result. Their only loss was to Group B toppers Laitkor. Riatsamthiah, meanwhile, end their season in fourth place.
Tomorrow, in Group B, Laitkor are scheduled to face Mawryngkneng at 3PM.