Shillong, Nov 13: Nangkiew Irat escaped relegation from the Shillong Premier League by coming from a goal down to defeat Laban 3-1 in their final match at the JN Stadium here today.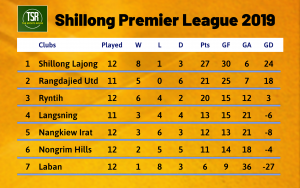 Nangkiew Irat needed to win to get above Nongrim Hills in the standings, while the match was just for pride for Laban, who were destined to drop back to the First Division next season no matter what happened. This was Nongrim's and Laban's first season in the SPL.
In the first leg Laban had pipped Nangkiew 1-0 on 9th September.
Today Bickyson Kharkongor headed in a cross in the 42nd minute to put Laban into the lead, but their advantage lasted barely 90 seconds before Banshan Nongdhar equalised by scoring off a cross in the 43rd.
Lambor Nongsiej then gave his side the lead with a goal of his own past Laban's advancing goalkeeper in the third minute of first half stoppage time.
Nongsiej then scored again in the 79th to put the match beyond doubt.
Surprisingly, Laban were not all that bad today and looked like they were giving 100% at least for some of the match, something which can't be said for their most recent matches.
This was still Laban's eighth defeat of the season, while it was Nangkiew's first win of the second leg and it came at a crucial moment.
Tomorrow Rangdajied United are scheduled to face Langsning in the season-ending match at 2:15PM.
(TSR photo. Laban are in white, Nangkiew Irat in red)