Shillong, Mar 9: Concerns surrounding the coronavirus outbreak have led the All India Football Federation to postpone the final round of the National Football Championship for the Santosh Trophy, which was scheduled to be held next month in Aizawl.
This was revealed today by the Mizoram Football Association in a statement on its Facebook page.
The AIFF "will monitor the situation of the coronavirus outbreak in the upcoming days and will decide on the fresh dates, which will be communicated to all the participants in due course," the statement said.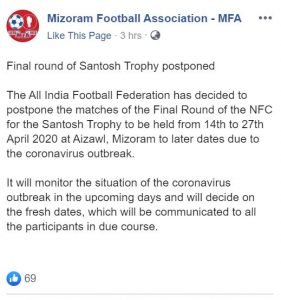 Meghalaya had qualified for the final round and state players have been in training for the National Football Championship.
It was also announced by the AIFF on its website today that the FIFA World Cup Qatar 2022 and AFC Asian Cup China 2023 joint qualification round two matches, which were scheduled to be played in March and June, have been postponed until further confirmation.
India were slated to host Asian champions Qatar in Bhubaneswar on 26th March. In addition, in June the Blue Tigers were scheduled to play two matches – against Bangladesh in Dhaka on 4th June before hosting Afghanistan in Kolkata on 9th June.
However, the AFC said that, upon mutual agreement, the respective countries can decide to play as per the pre-decided schedule should safety and health concerns be taken care of.
Globally, the coronavirus outbreak has affected numerous sporting events. In Formula One the Chinese Grand Prix has been postponed, while the Bahrain race will not be open to spectators. Rugby's Six Nations tournament in Europe has seen matches postponed, while the Indian Wells tennis event has been cancelled. A UEFA Champions League match between Paris St Germain and Borussia Dortmund on Wednesday will be played behind closed doors because of coronavirus.