There were several athletes from or connected to Meghalaya who passed away in 2020. Here we pay tribute to their lives…
Individual Talang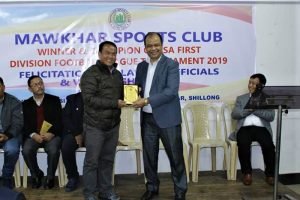 The football community of Shillong was left in mourning on 23rd January following the untimely death of Individual Talang (pictured standing left). Talang, a resident of Mawkhar, was playing football in an over-40s tournament at Mawlai Madan Heh when he suddenly collapsed. He was rushed to hospital but was pronounced dead.
Talang was a Rangbah Dong of Mawkhar and was associated with that neighbourhood's club for many years. He was one of those felicitated by Mawkhar SC at a ceremony the previous October. In a Facebook post Mawkhar SC said, "He will be forever remembered for his football knowledge and the lessons he taught us. His way of life will stay on with us."
Talang, who worked in the Accountant General's office, was a resident of Mawkhar Main Road. He leaves behind a widow, Risha Lymba, and child, Demichwa Lymba.
Kevin Biam
On 16th May Reliance Foundation Youth Sports announced the tragic death of young Kevin Biam. He had reportedly died in a swimming incident.
Biam was part of the St Anthony's Higher Secondary School team that won the RFYS national championship in 2018-19 and which were Shillong runners-up in 2019-20.
T Patrick Nongrum
Thomas Patrick Nongrum, a longstanding figure in the sports scene in the state, passed away on 23rd July.
Nongrum was the only qualified hockey coach in the state and popularised the sport in the 1980s by conducting coaching camps. He was the first President of the Meghalaya State Hockey Association, which was formed in 1995, and he was the association's Adviser from 2011 until his passing.
Nongrum was survived by his wife and their three children.
David Lyngdoh
David Lyngdoh, former footballer and long-time supporter and official of Langsning FC passed away late on 10th September. He was 73 years old.
Born on 2nd November 1946, he joined Langsning in 1968, was manager of the team that won the Independence Cup in Nagaon and was an executive member of the club until his passing. He was also once manager of an U-16 Meghalaya state team and had been President of the Meghalaya Football Players Association.
Right up until this year he would be at practically every Langsning match, whatever the age group, with plenty of comments, analysis and constructive criticism. Silver-haired with distinctive features, Lyngdoh stood out and was an easily recognisable figure in Polo.
Lawrence Lyngkhoi
Lawrence Lyngkhoi, one of the top footballers from the state in years gone by, passed away on 16th September. He was 72.
Lyngkhoi's talent was first identified when he studied at St Anthony's College. His close friends have said that, as a young man from a rural area, he was extremely shy when he first arrived in the city and that shyness at first concealed his talent.
But in time his innate abilities shone through on the football field and Lyngkhoi was then picked up by Mawkhar SC and also played for a Shillong XI. His friends also stated that he was chosen as a member of the All India University team. Lyngkhoi then got a job in the Accountant General's office in Shillong under the sports quota.
Razia Ahmed and Firoza Khan
Tragedy struck the Meghalaya cricket community on 25th September after Razia Ahmed (left) and her cousin Firoza Khan (right) both died after a landslide struck their homes in Shillong.
The landslide, which struck at 6:30AM, buried the houses in which Ahmed and Khan lived with their families. Heavy rainfall led to terrible loss of life across the state that month.
Ahmed, born on 24th October 1997, played for the state women's cricket team and was one month away from her 23rd birthday. She had played for the senior and U-23 women's one-day and T20 teams in the 2018-19 and 2019-20 seasons.
It was only three days after the landslide that the body of Khan, born on 14th July 1997, was recovered. Khan represented the Shillong Cricket Association back in 2012 and was in the standby list of cricketers for the U-23 Meghalaya team in 2019-20.
Matheus Khyriem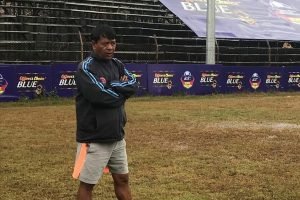 Langsning goalkeeping coach Matheus Khyriem passed away on 1st October.
In breaking the news the club wrote, "He has been a great asset to the club and his undying contribution and support shall never be forgotten."
Khyriem, a resident of Mawlai Phudmuri, had played in the past for Langsning, Shillong Lajong, Riatsamthiah and Wahingdoh. After hanging up his gloves, he undertook a course to become a qualified coach. Khyriem had also served as manager to Meghalaya state teams, such as those that took part in the Santosh Trophy.
Carlton Chapman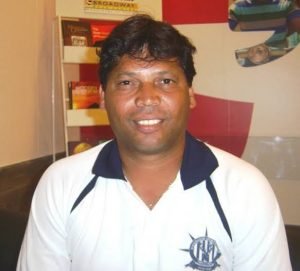 Though not from Meghalaya, former Indian national team midfielder Carlton Chapman left a mark on the state's football after taking over the reins of the erstwhile Royal Wahingdoh FC as a coach.
Under him Wahingdoh won three successive Shillong Premier League titles between 2010 and 2012 as well as the Bordoloi Trophy in 2011.
In his playing days Chapman, born on 13th April 1971, had worn the club colours of East Bengal and JCT, among others. He died on 12th October of a heart attack.
(File photos)