Shillong, Feb 25: Meghalaya were staring at disaster today in their Vijay Hazare Trophy one day match against Mizoram in Chennai until Dippu Sangma and Abhay Negi (pictured left and right) came to the rescue and helped Meghalaya pull off a sensational two-wicket win with two overs to spare.
Sangma (60*) and Negi (40) came together at the crease with Meghalaya on 144/7 chasing 237 for victory. At that stage, not only were Meghalaya running out of batsmen, the team also required seven runs an over to pull off the win in the plate group match.
Both batsmen smashed the Mizoram bowlers around the park in their 84-run partnership, with Sangma's unbeaten 60 coming off 61 deliveries (3x4s and 4x6s) and Negi's 40 in just 27 balls (3x4s and 2x6s). These were the personal bests for both batsmen in List A cricket. Negi fell nine runs short of the target but Sangma and Aditya Singhania (2 not out) got the team across the finish line.
Earlier, Mizoram won the toss and chose to bat, making it the first time in the tournament this season that Meghalaya bowled first.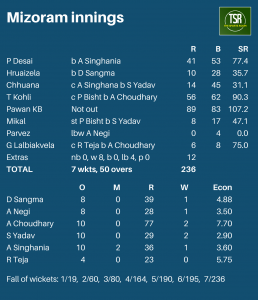 Pawan KB was not out at the end of 50 overs with 89, while Taruwar Kohli (56) and Pratik Desai (41) also contributed welcome runs in Mizoram's total of 236/7. Guest-professional Sanjay Yadav claimed 2/29, while Akash Kumar Choudhary was a little expensive but still claimed a brace of wickets (2/77). Negi (1/28), Singhania (1/36) and Sangma (1/39) took a wicket apiece.
Meghalaya have a very good record against Mizoram but the chase did not start well, with the top three batsmen – Rohit Shah, Wanlambok Nongkhlaw and Lerry Sangma – out for 10 runs each. Guest-professionals Ravi Teja (42) and Punit Bisht (35) then rebuilt the innings with a 56-run partnership for the fourth wicket but their dismissals, and that of Yadav later for 18, put tremendous pressure on Sangma and Negi but the pair responded brilliantly and helped give the team their second victory in a row.
Meghalaya will next face Arunachal Pradesh on Saturday.