Shillong, Nov 20: Nongumlong claimed top spot in Group D of the Shillong Sports Association's Third Division after defeating Lumdiengjri 3-1 at Polo Ground here today.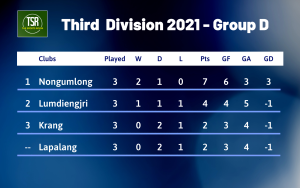 This was the only match of the day. Group D is the only group with four teams; all the other three have five each.
Fairly Nongkhlaw scored only the second hat-trick of this season's Third Division. He put Nongumlong into the lead in the 19th minute but Raplang Syiem equalised in the 35th minute.
Nongkhlaw then found the back of the net twice in the second half (56′, 70′) to give Nongumlong their second win.
Both Nongumlong and Lumdiengjri had already qualified for the quarterfinals before today's game. Victory, though, gave Nongumlong first place, with Lumdiengjri second. Krang and Lapalang are completely indistinguishable. Head-to-head is unable to separate them as they drew their meeting 1-1 and they also have the exact same number of points, goals for and goals against and are thus joint third.