Shillong, Jul 12: Nongrah and Rynjah will face each other for the Fourth Division title in the final at the JN Stadium, Polo, on Saturday. Kick-off is scheduled for 3:45PM.
Both teams, by topping their respective groups, qualified for the final as well as earning promotion to next season's Third Division.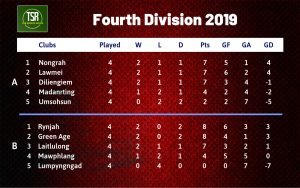 In this very short league, which only saw 20 matches in total being played, Nongrah and two other teams (see table) finished with seven points in Group A, but using head-to-head Nongrah came out on top, having defeated Lawmei and drawn with Diliengiem, while Lawmei were second having beaten Diliengiem.
Group B was also close, but between only two teams – Rynjah and Green Age. These two sides played out a 1-1 draw in their only round robin meeting and their goal difference was also the same. Rynjah thus took top spot thanks to having scored more goals than Green Age.
(TSR file photo)