Shillong, May 10: PFR Academy edged Onsides Sports 1-0 in Group A of the Shillong Sports Association's Women's League at Third Ground, Polo, here today, while Lumparing and Nongkohlew split points in a 1-1 Group B draw.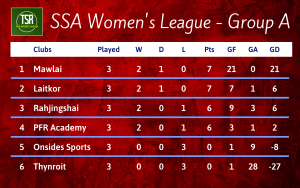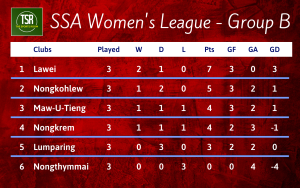 Mevareen Lynnong scored the only goal of the game for PFR in the 19th minute.
In the later match, it took until the early part of the second half of the hour-long game to see goals from Lumparing and Nongkohlew in quick succession.
Barishisha Kharkongor (32′) first put Lumparing ahead but Nongkohlew soon restored parity in the 36th minute via Barina Marbaniang.
This was Lumparing's third consecutive draw in the competition.
Tomorrow's fixtures:
Group B – Nongthymmai vs Maw-U-Tieng, 1PM
Group A – Laitkor vs Thynroit, 3:30PM