Shillong, Feb 23: Laitkyrhong walloped Wahingdoh 5-1 in the final match of Group B in the Shillong Sports Association's Second Division at Third Ground, Polo, here today.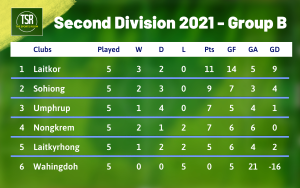 As a result Wahingdoh finish at the bottom of the group with 0 points, while Laitkyrhong end fifth but now with 5 points.
Neither side had won a game all season, though Laitkyrhong had picked up 2 points through draws against Sohiong and Umphrup. They had only scored one goal in four games but managed to multiply that figure several fold today.
Mara Khongwet (45′) ensured Laitkyrhong went into the break leading 1-0 but, as has been the case on several occasions for Wahingdoh this season, it was the second half that was really painful. Bilingstar Kurkalang (50′, 74′) bagged a brace before Samuel Suting (82′) added a fourth. An own goal a minute later was the final nail in the coffin.
Meanwhile, Wahingdoh scored their lone goal in the 59th minute via Shemborlang Kharumnuid. Wahingdoh have scored goals in four out of their five matches but, on the other hand, have conceded an average of 4.2 per game.
Tomorrow's match will be the last of the group stage, featuring Mawryngkneng and Jongksha. The game was postponed due to bad weather last month. Jongksha have 5 points and Mawryngkneng 1, meaning that the latter are going more for pride than anything else as they are destined to finish at the bottom of the group.
Tomorrow's fixture:
Group A – Mawryngkneng vs Jongksha, 2:45PM