Shillong, Mar 6: Meghalaya's hopes of a draw in their final Ranji Trophy Elite Group A match were spoiled today after Gujarat bowled them out for 250 and thereby inflicting a loss by an innings and 139 runs in Rajkot today.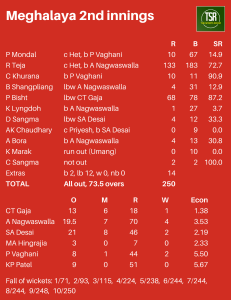 Yesterday, guest professionals Ravi Teja and Punit Bisht had given the team hope with terrific batting performances to foil their opponents' desire to end the match on the third day. Teja had made 133 not out by stumps in company with Bisht (55 not out) and Meghalaya were on 224/3, their best score yet in top flight first-class cricket.
Gujarat regrouped, however, and wrapped up Meghalaya in just 15.5 overs of play on the morning of the fourth and final day while utilising just three of their frontline bowlers.
Teja was dismissed after facing just five more deliveries and was unable to add to his overnight total. Bisht, meanwhile, did get a few more runs but was eventually out for 68.
The tailenders then hung on for as long as they could but the scoreboard did not move all that much and Meghalaya were all out for 250, meaning that seven wickets were lost today for an additional 26 runs.
This was still the highest score that Meghalaya have managed in their first season of elite level Ranji action. Undoubtedly, the boys will be a little disappointed at losing all three of their matches by large margins but the experience has been an invaluable one and will stand them in good stead for next season.
It will also be a memorable campaign as it was the first Ranji Trophy season since the Covid-19 pandemic began and it provided first-class debuts (Kishan Lyngdoh, Kilco Marak), runs (Dippu Sangma's 55 not out against Kerala as well as two fifties for Bisht and a century for Teja) and wickets (Aryan Bora's 3/105 against Kerala, Chirag Khurana's five-for versus Gujarat) for Meghalaya players to remember.