Shillong, Apr 18: The 83rd Senior National Table Tennis Championship began here today with a record number of participants.
There are 38 men's teams and 35 women's, with more than 450 paddlers taking part in the 18th to 25th April championship at the Sports Authority of India Training Centre. It is being organised by the Meghalaya Table Tennis Association with the support of the Meghalaya government.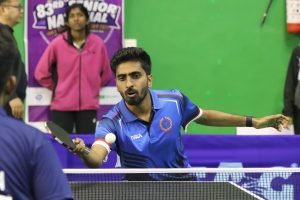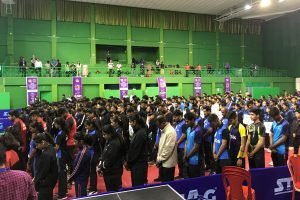 At the inaugural ceremony, a minute's silence was observed for Deenadayalan Vishwa, a table tennis player from Tamil Nadu who died tragically in a car accident while travelling to Shillong from Guwahati yesterday.
His passing was condoled by the dignitaries on the occasion, including the chief guest and Speaker of the Meghalaya Assembly Metbah Lyngdoh, guest of honour and Sports & Youth Affairs Minister Banteidor Lyngdoh and MTTA President RG Lyngdoh, who all spoke of their shock on hearing of the accident.
Also present on the occasion were Director of Sports & Youth Affairs Wanri Booth, Meghalaya State Olympic Association Working President John F Kharshiing, MSOA General Secretary Finely Pariat and others from the MTTA.
In his introductory address, RG Lyngdoh said that he is very grateful for all the teams to have come to Shillong from the far corners of the country and that he is looking forward to a high standard of competition.
Banteidor read out a condolence message on behalf of the government of Meghalaya for Vishwa's family, describing the youngster as a promising table tennis player whose death is a huge loss to the sports fraternity of the state. "His contributions will always be remembered and cherished. In this moment of grief, I with a heavy heart convey sincere and heartfelt condolences to the family."
The minister also said that the state government is happy to support the championship, which is one of three mega-events planned for 2022, the other two being the Meghalaya Games in May and North East Olympics in October-November.
Metbah, said that he was very happy to see youths from all states and other teams travel to Shillong for the tournament.
"It was the success that Meghalaya has had in hosting other events that helped the Table Tennis Federation of India to grant this championship to the state and the credit has to go to the minister in charge, the Sports and Youth Affairs Department, the MTTA and others," the Speaker said.
He concluded by calling on the players to be role models for the youth of the country.
Dozens of matches were held today, with the team events being featured on the first day. The Railway Sports Promotion Board (RSPB), Bengal A, Haryana, Petroleum Sports Promotion Board (PSPB), Maharashtra A, Tamizhaga Table Tennis Association (TTTA), Maharashtra B and Karnataka are well and truly entrenched after two rounds of matches. However, the real fight is expected among teams to occupy the second spot in their groups.
Two teams from each group will advance to the knockout stage.
(Meghalaya Table Tennis Association photos. Featured photo: Manika Batra of Petroleum Sports Promotion Board in action)