Shillong, Jun 14: The 2021-22 season of the Officer's Choice Blue Shillong Premier League is set to be anything but predictable, the coaches for tomorrow's opening fixture between Nangkiew Irat SC and Mawlai SC feel.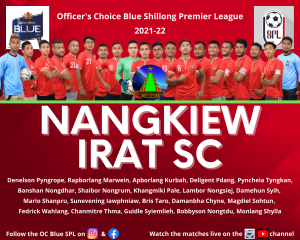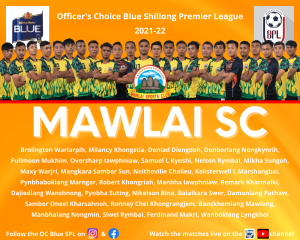 The match will be held at 4PM at the MFA Turf, Third Ground, Polo, and livestreamed on the T7 YouTube channel.
Speaking at a pre-match press conference at the Shillong Sports Association Stadium conference hall, Rogesterwell Basaiawmoit and Khlain Pyrkhat Syiemlieh both opined that the two years of Covid-19 pandemic mean that there are no favourites this year, which should make the action all the more exciting.
Mawlai have retained several of the players who gained the club promotion from the First Division 2019, such as Oversharp Iawphniaw, but have added to their ranks some of the top footballers on the local scene, like Brolington Warlarpih, Milancy Khongstia, Donborlang Nongkynrih and Fullmoon Mukhim. Other big names on the roster are Neithovilie Chalieu and Samuel Lyngdoh Kynshi, both of whom have I-League experience with Shillong Lajong; the latter has also been with Real Kashmir over the last two seasons.
"Can't predict which team will be best this season because we don't know how the players are going to perform," Mawlai coach Syiemlieh said. "As a coach you always want to win the league and everyone is expecting results."
Despite what the gaffer said, Mawlai have one of the strongest squads on paper and will be looking to make their reentry to the OC Blue SPL count for plenty.
On the other hand, Nangkiew Irat are known to be able to pull off upsets on occasion but mostly feature in the middle of the table year after year.
"After two years of the pandemic we are looking forward to the SPL," Basaiawmoit said. "We have been preparing well for the last two months but we need to win the first match. We expect Mawlai will be a strong side but we will work hard and aim for the win."
Basaiawmoit has been a steady presence at the club and many of the players from the 2019 campaign have been retained, such as Shaibor Nongrum, Damehun Syih and Khangmiki Pale. But there have also been a few interesting additions, like Rapborlang Marwein, Damanbha Chyne and Apborlang Kurbah, which could signal a season where the club can challenge for the title.
(TSR file photo)