Shillong, Apr 19: Shillong Lajong FC breezed past a hapless Diamond Rock in a 4-0 triumph in their Second Division League Group B match at Third Ground, Polo, here today.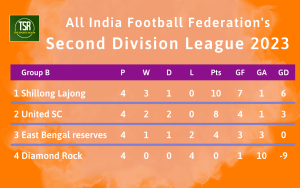 Hardy Cliff Nongbri (19'P, 61′) scored a brace, while Ronney Wilson Kharbudon (70′) and Wadajied Kynsai Ryngkhlem (90'+1) completed the rout as Lajong consolidated their hold on first place in the group.
With the other game in the group ending 1-0 in favour of United SC against East Bengal reserves, Lajong now have 10 points to United's 8.
The Madhya Pradesh-based Diamond Rock have yet to earn a point in four matches now and SLFC couldn't afford to drop points against the bottom side. They certainly didn't let the opportunity go to waste, with more goals scored today than Lajong have had in the past three matches combined.
Coach Bobby Lyngdoh Nongbet made three changes to the starting line-up, bringing in Ronney Wilson Kharbudon, Babysunday Marngar and Ronaldkydon Lyngdoh Nonglait in place of Sambor Kharsahnoh, Pursunep and Hamedamanbha Wahlang.
The home team bagged an early lead in the 19th minute with Nongbri (pictured centre) converting a penalty, which had been awarded after Chanmitre Thma drew a foul by a Diamond Rock defender in the box.
The visitors had chances that were few and far between but Achinta Ghosh came closest by striking the crossbar in the 30th minute.
At the other end, Lajong piled on the pressure but, while they tested goalkeeper Abhijit Roy on several occasions, they didn't make those tests all that difficult.
It was only after an hour's play that Diamond Rock cracked under the strain.
First Nongbri scored his second by volleying in a ball that was chipped into the box. Then came Kharbudon's goal, which came off the second of two successive corners; he tapped the ball in from point blank range.
In stoppage time it was the turn of the substitutes to get in on the action. Amon Lepcha had a shot denied but the rebound fell nicely for Ryngkhlem, who converted the opportunity.
The Reds will now travel to Kolkata to take on United SC on 24th April. The two sides had played out a 1-1 draw in the reverse leg. A win for United would upend the group and give them the lead, while victory for Lajong would ensure that they progress to the final round of this year's Second Division League from Group B.
Lajong's squad today: Bishal Lama (GK), Henry Ford Nongneng, Ronney Wilson Kharbudon, Saveme Tariang, Babysunday Marngar (sub Wadajied Kynsai Ryngkhlem 68′), Everbrightson Mylliempdah (sub Gladdy Kharbuli 85′), Hardy Cliff Nongbri, Ronaldkydon Lyngdoh Nonglait, Sangti Janai Shianglong, Chanmitre Thma (sub Amon Lepcha 53′), Atlanson Kharmaw
(TSR photo)