Shillong, May 21: The Meghalaya men's team finished fourth in the 7th National Blind Football Tournament, which concluded in Jamshedpur yesterday.
The four-day event also saw Meghalaya's women's team come third out of three participating teams.
Meghalaya's men were the defending champions – they had won the title three times, including both of the last two editions.
In their first match, Meghalaya blanked Arunachal Pradesh 2-0 with goals by Gabriel Nongrum and Klingson Marak.
Marak then produced a stunning tally of five goals as Meghalaya beat Telangana 7-0 on the second day. Nongrum and Prakash D Shira were the other scorers.
That qualified the team for the semifinals but here they were pipped 1-0 on penalties by Uttarakhand after full time ended 1-1; Meghalaya's goal was scored by Marak again.
Penalties proved to be the undoing of Meghalaya in the bronze medal match as well, as they were edged 1-0 by Kerala after regulation time was goalless. Meghalaya had defeated Kerala in last year's final but the tables were turned this time around.
The state's women's team, meanwhile, lost to Maharashtra by a narrow 1-0 margin before drawing with Uttarakhand 0-0.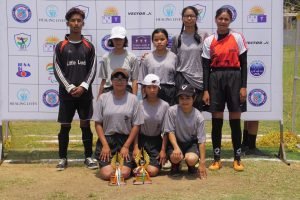 In blind football, a five-a-side game, all players except the goalkeeper are blindfolded and are assisted by a coach and a goal guide. The players are guided by the sound of the ball, which contains bells. The goalkeeper, goal guide (who stays behind the opposite goal) and the coach (who runs along the side of the pitch) are the three sighted assistants who call out and direct the players to move with the ball and to shoot.
Blind football is a Paralympic sport and the Indian Blind Football Federation is affiliated to the Paralympic Committee of India and the International Blind Sports Federation, New Delhi. The IBFF has been developing blind football players at the grassroots through awareness camps around the country since 2013.
(Blind Football India photos)