Shillong, Jun 2: West Jaintia Hills took the lead in the medals table on the second day of the Chief Minister's State Level Inter School Athletic Meet 2023 at the SAI Centre at NEHU here yesterday.
At the end of the second of the three-day event, West Jaintia Hills had 10 gold medals, with Ri-Bhoi on 6.
North Garo Hills and East Jaintia Hills won 5 gold each, though the former are in a better position thanks to more silver medals.
Every one of the 12 districts has won at least 2 medals so far going into Friday's final day.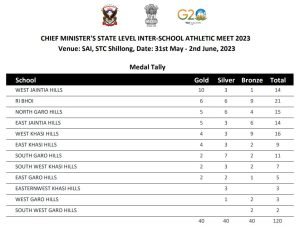 | | | | |
| --- | --- | --- | --- |
| SECOND DAY RESULTS: | | | |
| U-14 girls high jump | | | |
| Athlete | District | Height/Distance | Medal |
| Bakyntihun Jyndiang | WKH | 1.31m | Gold |
| Enriyana G Momin | NGH | 1.25m | Silver |
| Ibapalei Shyrkon | WKH | 1.25m | Bronze |
| | | | |
| U-14 girls shot put | | | |
| Athlete | District | Height/Distance | Medal |
| Adorablela Syntem | WJH | 9.34m | Gold |
| Leryang G Marak | SGH | 8.72m | Silver |
| Saphapaya Lyngdoh | EJH | 8.47m | Bronze |
| | | | |
| U-16 girls javelin | | | |
| Athlete | District | Height/Distance | Medal |
| Wankynsai Pyrtuh | WJH | 24.90m | Gold |
| Gracebedel M Marak | EGH | 22.90m | Silver |
| Ringrangchi Ch Marak | EGH | 22.47m | Bronze |
| | | | |
| U-16 girls long jump | | | |
| Athlete | District | Height/Distance | Medal |
| Bancyful Mynsong | Ri-Bhoi | 4.07m | Gold |
| Jaimon Makri | Ri-Bhoi | 4.05m | Silver |
| Latympang L Marshillong | SWKH | 4.00m | Bronze |
| | | | |
| U-16 girls shot put | | | |
| Athlete | District | Height/Distance | Medal |
| Wailuti Lyngdoh | WJH | 8.09m | Gold |
| Ringrangchi Ch Marak | EGH | 7.95m | Silver |
| Sanihabet Hoojon | WKH | 7.95m | Bronze |
| | | | |
| U-18 boys javelin | | | |
| Athlete | District | Height/Distance | Medal |
| Tusal M Sangma | NGH | 49.93m | Gold |
| Biljakra A Sangma | SGH | 47.40m | Silver |
| Shaiparlin Nongsiej | WKH | 39.69m | Bronze |
| | | | |
| U-18 girls discus | | | |
| Athlete | District | Height/Distance | Medal |
| Silanchi M Sangma | NGH | 20.05m | Gold |
| Romisha L Nonglait | EWKH | 19.00m | Silver |
| Chenambe Ch Marak | SWGH | 18.39m | Bronze |
| | | | |
| U-14 boys 600m | | | |
| Athlete | District | Time | Medal |
| Khrawborlang Lyngdoh | WJH | 00:01:34.91 | Gold |
| Savio Surin | EKH | 00:01:35.47 | Silver |
| Dajied Kynsai Syiemlieh | WKH | 00:01:37.64 | Bronze |
| | | | |
| U-14 boys 60m | | | |
| Athlete | District | Time | Medal |
| Khrawborlang Lyngdoh | WJH | 00:00:07.80 | Gold |
| Saidul Ali | EJH | 00:00:07.83 | Silver |
| Wedan Jachugrik B Marak | EKH | 00:00:07.96 | Bronze |
| | | | |
| U-14 girls 600m | | | |
| Athlete | District | Time | Medal |
| Rukini RT Dkhar | EJH | 00:01:45.49 | Gold |
| Ridahun Taro | Ri-Bhoi | 00:01:54.81 | Silver |
| Iohdiangki Syiem | WKH | 00:01:55.80 | Bronze |
| | | | |
| U-14 girls 60m | | | |
| Athlete | District | Time | Medal |
| Alethea CL Nongpiur | EKH | 00:00:09.17 | Gold |
| Turoi Phawa | EJH | 00:00:09.21 | Silver |
| Iohdiangki Syiem | WKH | 00:00:09.46 | Bronze |
| | | | |
| U-16 boys 2000m | | | |
| Athlete | District | Time | Medal |
| Ram Shylla | WJH | 00:06:17.27 | Gold |
| Shankupar Puwein | WKH | 00:06:25.34 | Silver |
| Bolki Sana | EJH | 00:06:35.21 | Bronze |
| | | | |
| U-16 boys 300m | | | |
| Athlete | District | Time | Medal |
| Embhahlang Lyngdoh | EKH | 00:00:37.31 | Gold |
| Iohikshan Lyngdoh | WJH | 00:00:38.01 | Silver |
| Dangiaidlynti Tmung | Ri-Bhoi | 00:00:38.16 | Bronze |
| | | | |
| U-16 girls 2000m | | | |
| Athlete | District | Time | Medal |
| Lyntijingkyrmen K Jahrin | SWKH | 00:07:22.32 | Gold |
| Ibashongkun Kurbah | EWKH | 00:07:54.71 | Silver |
| Banrihun Lyngdoh | SWKH | 00:07:55.85 | Bronze |
| | | | |
| U-16 girls 300m | | | |
| Athlete | District | Time | Medal |
| Sonia Lapang | Ri-Bhoi | 00:00:46.57 | Gold |
| Pringchi R Marak | SGH | 00:00:47.55 | Silver |
| Phibakmen Rynghang | Ri-Bhoi | 00:00:47.87 | Bronze |
| | | | |
| U-18 boys 200m | | | |
| Athlete | District | Time | Medal |
| Sajemiki Shylla | WJH | 00:00:23.05 | Gold |
| Kimkim Ch Momin | WGH | 00:00:23.36 | Silver |
| Renaldi Dhar | EKH | 00:00:23.45 | Bronze |
| | | | |
| U-18 boys 3000m | | | |
| Athlete | District | Time | Medal |
| Franky Siangshai | EJH | 00:09:31.90 | Gold |
| Damang I Lyngdoh | WJH | 00:09:56.31 | Silver |
| Merous Dkhar | EJH | 00:10:00.57 | Bronze |
| | | | |
| U-18 girls 200m | | | |
| Athlete | District | Time | Medal |
| Himonki Khaii | WJH | 00:00:29.46 | Gold |
| Kandamankyrhai L Nonglait | EWKH | 00:00:29.76 | Silver |
| Bateikhamkor Lyngdoh | Ri-Bhoi | 00:00:30.30 | Bronze |
| | | | |
| U-18 girls 3000m | | | |
| Athlete | District | Time | Medal |
| Wasaki Phawa | EJH | 00:12:46.85 | Gold |
| Ikyntiewshisha Ramsiej | SWKH | 00:13:14.66 | Silver |
| Daplang Makri | Ri-Bhoi | 00:13:23.47 | Bronze |
(Department of Sports & Youth Affairs photo)