This is the first in a series of features that TSR has planned to celebrate International Women's Day, which falls on 8th March, around the theme of 'Meghalaya women in sport'. First up is Larihun Warjri.
Basketball is popular. Very popular. It rivals sports like cricket for second place in the hearts of Meghalayans (football is, of course, way off in the lead), yet basketball infrastructure in the state is dismal. Tournaments are invariably played on rough, concrete, open courts that are also subject to the vagaries of the weather.
That's just one issue that Larihun Warjri has with the state of basketball in Meghalaya. When TSR caught up with her she was at a training session at Tyllilang Basketball Academy, which is run out of Pearly Dew Higher Secondary School in Jaiaw, a neighbourhood of Shillong.
An assistant coach at Tyllilang, Warjri shared a bit of her story with us.
Read more from the Meghalaya women in sport series:
* Marathon runner Darishisha Iangjuh
* Football referee Merrylene Tongwah
* Archer, judge, administrator Matsiewdor War Nongbri
"It was in Class 6 (at All Saints School) that I began to get into basketball. I saw my seniors playing the game and liked how it's played and began to fall in love with the sport," she recounted. "But in school there were hardly any competitive tournaments as we never went for inter-school events," she added.
Warjri went on to attend St Mary's College before earning an MA at North-Eastern Hill University. It was at college that she began playing basketball more regularly but at that time there were hardly any avenues for regular coaching and practice.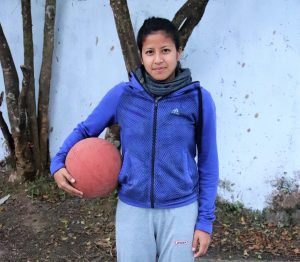 "With the coming of Tyllilang there has been a positive change. But Meghalaya is lagging behind. Mizoram has indoor stadiums and is developing its women's league. There is no indoor basketball stadium in Meghalaya. Among the North East states we are the only state like that," the 24-year-old lamented.
Warjri was part of the junior state team in 2010-11 but said that in the following years Meghalaya stopped sending a team for national events.
Despite the constraints that aspiring basketballers face, she is very positive about the way youngsters are taking up the game.
"Kids come for practice everyday. They have the drive, the skills and the talent. They have so much of it that they inspire me too. If coached in the right way, they can be as good as players from other states. They say you have to be tall to play basketball and we in the North East aren't very tall, but if basketball is taught in the right way even those without a height advantage can play," she said.
That's good encouragement, but she feels the state really needs to push for infrastructure creation and make regular practice sessions available for both boys and girls.
Those aren't the only issues, however. Family and gender bias still cause problems.
"There was a time when my dad wanted me to stop [focusing so much on basketball]. He was afraid I wouldn't get a job. And it was a problem for others as well. But now parents are seeing things differently and they have a different mindset. They see that it can take us somewhere," Warjri opined. "I think that coaches also focus more on boys and think it's more of a boys' game. But Tyllilang is focusing on both boys and girls. I think basketball would've been easier for me to get into if I had been a guy. Maybe my parents would have been more open with me taking it up," she added.
Whatever the challenges, our focus for this article has surmounted them. In November last year the young instructor passed a World Association of Basketball Coaches Level-1 coaching certification course in Aizawl.
Warjri is also an all-round sportswoman. She has previously represented Meghalaya in badminton and won a women's doubles silver medal in last year's state championship.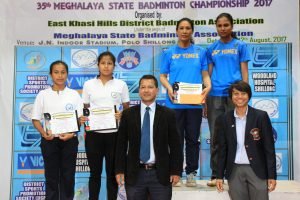 Athletics was also a love of hers when she was younger, so it's not surprising that when asked about her sporting inspirations she picked long distance runner Biningstar Lyngkhoi, as well as karateka Linza Syiem, both of whom are Meghalaya heroes.
Inspirational figures are good, but hard work is better. We wanted to end our chat by asking Warjri if she had any advice for youngsters wanting to get serious about basketball.
"One thing about any sport is that you have to work hard and be committed. And you have to have the consistency to practise continually. It can't just be when there's a tournament going on," she said while watching over Tyllilang's students going about their drills.
(TSR photos)