Shillong, Mar 12: The quarterfinal lineup of the Assam Rifles Invitational Football Cup was finalised today after Mawngap defeated Eastern Pirates 3-1 in the pre-quarters at the JN Stadium here.
Chesterfield Nongdhar scored a hat-trick for the winners.
Mawngap drew first blood in the eighth minute with Nongdhar's opening goals, but right at the end of the first half Eastern Pirates equalised through Aijingmut Lyngdoh (44′).
Ten minutes after the restart a nice through ball was met by A Kharmaw on the right flank and he neatly crossed the ball into the Eastern Pirates box. One of his team mates could not get to the ball, though Nongdhar was right behind him and slotted it perfectly into the net.
The Pirates' defence was a little too open in the second half and they came perilously close to conceding a few times, while Mawngap kept it fairly neat at the back and did not concede again.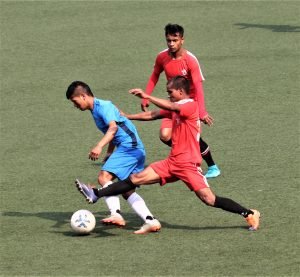 Then, in the 81st minute a Mawngap player was pulled back by a Pirate in the box and the referee had no hesitation in declaring a penalty. Nongdhar stepped up and converted after the goalkeeper guessed the wrong way.
Mawngap join twice runners-up Lawsohtun, Umsning United, Mawpat, Kith United, 2016 champions Smit, defending champs Assam Rifles Laitkor and Ryntih in the last-eight stage.
The first two quarterfinals will be played at the JN Stadium tomorrow. At 10AM Lawsohtun will take on Smit, while Mawpat face Umsning United at 1PM. Entry is free and all are invited.
(Photos contributed by Assam Rifles)