Shillong, Oct 5: India went down in defeat to South Korea in the quarterfinal round of the Asian Football Confederation's U-16 Championship in Malaysia on 1st October, but the way they performed to get to that stage drew plaudits from football watchers in India and around Asia, and one player in particular who caught the eye was Ricky Shabong (pictured second left in the front row), a midfielder who hails from Meghalaya.
Shabong was in the starting XI of each one of India's four matches. The group stage saw them beat Vietnam 1-0 and then play out two goalless draws against Iran and Indonesia. That was enough to see them go through to the quarters (for the first time in 16 years) where they conceded their first goal of the tournament, which was enough to send them out.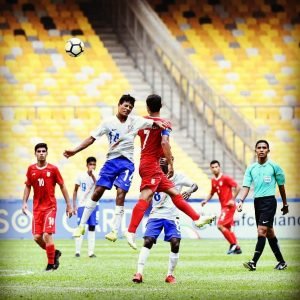 If they had managed to beat South Korea they would have received direct entry into the next FIFA U-17 World Cup, but it was not to be.
Shabong was the subject of an All India Football Federation (AIFF) profile in the lead-up to the AFC U-16 Championship where he revealed early struggles he had to undergo to help his family.
"I smashed stones to help my family by earning some money," the midfielder had said. "I want to help my family in whatever way I can. I am pursuing a dream, the dream of making it big in football. My family is also living their dream through me… Initially that was the sole way I could help my family. But since I have started to play for India things have got better. Football is my release from poverty. I owe a lot to AIFF Academy."
Shabong's name was featured several times in match reports from the tournament.
Against Vietnam he had a chance to score early on but went narrowly wide in the 17th minute. Then, against Indonesia, a shot of his that was on target was just about deflected away for a corner by a defender. Shabong would then go on to miss another chance late in the same game.
Altogether the 15-year-old played well over 300 minutes for his country in the tournament and acquitted himself well.
Shabong has long been on the AIFF's radar. In 2016 he was selected along with two other Meghalaya boys for a national U-14 camp and the following year he was picked in India's U-15 SAFF Championship squad.
Now we just have to hope that Shabong continues to remain on the right track and gets support to keep developing his football career. And then, who knows, he may well be the successor to famous midfielders from Meghalaya, Rocus Lamare and Eugeneson Lyngdoh.
(Photo credit: Facebook/Indian Football Team)