Shillong, Dec 12: The fourth edition of the Northeast 3×3 Challenge, a basketball event organised by Touchline Northeast in collaboration with the Meghalaya Aids Control Society (MACS), concluded at Madan Iewrynghep here today.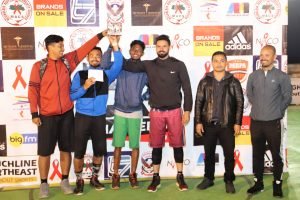 The three-day tournament saw 68 teams register across the U-18 boys' and girls', women's and men's categories.
The four finals held today evening were intense and close contests, despite the very chilly weather conditions.
In the U-18 girls' final Tyllilang of Jaiaw beat ENE Ballers of Mawngap 6-5. 3×3 basketball matches are of much shorter duration than the normal game and are played on a half court. Teams get one point for every basket they make, irrespective of whether it is taken as a free throw, in normal play or from outside the three-point arc.
The boys' U-18 final was even closer than that of the girls'. The title match saw Team Jett take on SFS and the score was tied at 7-7 at the end of normal time. In sudden death the first team to score two points would win the match and Jett eventually came through 9-8.
The women's and men's contests saw the eventual champions pull out significant leads that their opponents could not overcome despite their best efforts.
In the women's event Alpha were 9-4 victors over ELIS, while the men's saw D'Ravagers take an enthralling final match 11 points to 6 against Da Noobs.
The tournament also successfully found a way to integrate the message of HIV/Aids prevention, treatment and non-stigmatisation in between the basketball matches, with the large body of spectators quizzed on aspects of the disease by MACS.
A dunking challenge and three-point challenge were also held on the final day in between the finals.
Besides the winners' and runners-up cheques and trophies, most valuable player awards were also distributed to players from each category.
Prizes were distributed by Alexander Kharkongor of MACS, Shekhar Nag of RJ Foundation and Karan Mordani as a representative of Adidas among others.
In his closing address senior Meghalaya Basketball Association official Donald Steven Wahlang congratulated Touchline on making the event "bigger every year".
"I've see better and better talent emerging, but I can see that there are still areas that the players need to work on, like shooting percentage, so I encourage them to improve further," Wahlang added.
(Photos contributed by Touchline Northeast. The featured photo is of the women's champions Alpha at the prize distribution ceremony)