Shillong, Mar 3: Shillong Lajong will take on Aizawl FC in their penultimate fixture of I-League 2018-19 in Aizawl tomorrow. Kick-off for the last North East derby of the season will be at 2PM.
Lajong are on a three-match winning streak against Aizawl in the I-League and have not lost to them since 17th January 2017, which was the only time that Aizawl have bested SLFC in seven I-League meetings. The bottom-placed side this season will thus hope to continue that run of form, but they will have their backs up against the wall.
Aizawl, who are in eighth position, have lost just one of their last five matches and returned home after a rousing 3-1 win at Gokulam Kerala on 28th February. However, the Mizoram club have not tasted victory in Aizawl since 29th December and will be aiming to give their home fans something to cheer about come tomorrow.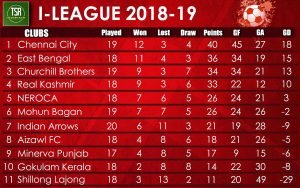 Against Gokulam Aizawl conceded in the first 10 minutes before leaving it late in the game to storm to victory, with all three of their goals coming in the space of 15 minutes, including a last gasp strike by Ansumana Kromah, who is the club's top scorer with six goals this season.
Lajong, meanwhile, took a point when they hosted Gokulam on 22nd February, which was at least something to cheer about after losing to East Bengal and Chennai City prior to that.
With 11 points from 18 games, the mathematics are simple for Lajong – they need four points from the remaining two outings and hope that Gokulam don't add to their tally of 14. Gokulam, as it happens, will be involved later today when they host NEROCA at 5PM.
But, ideally, two wins are what SLFC should aim for and where better to start than against a shaky Aizawl.
(TSR file photo)