Shillong, Jul 26: Shillong Lajong will take on Rangdajied United in the final of the U-18 Shillong Premier League 2019 at the JN Stadium tomorrow. Kick-off will be at 3:15PM.
Lajong qualified for the final by being the top team in the round-robin stage, earning 31 points from their 11 games. SLFC drew their opener against Lawsohtun but won all of their next 10 games.
Rangdajied, meanwhile, lost two games – to Mawkhar and Lajong – but finished in second position with 25 points, two ahead of 2018 champions Langsning.
Lajong, however, will start the match as clear favourites; RUFC have failed to beat Lajong since the U-18 SPL was introduced in 2016.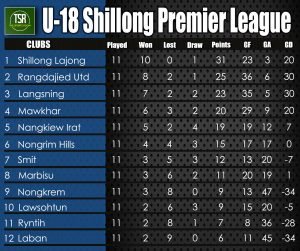 It has been an improved year for both Rangdajied and Lajong, who finished third and fourth respectively last season.
Rangdajied's Oresterwell Langshiang, who formerly played for SLFC, finished as the top scorer of the round-robin stage with 10 goals. He was one of six players to score a hat-trick this season. Eight of Langshiang's goals came in his club's last five matches. However, none of his goals came against a team in the top half of the table, so it will have to be seen whether he can make an impact against Lajong.
The U-18 SPL was expanded this year, now including First Division teams that were interested in taking part along with the SPL clubs' junior teams. Marbisu, Smit, Mawkhar, Nongkrem and Lawsohtun took up the challenge from the First Division. Mawkhar were by far and away the best of these, really giving Lajong, Langsning and Rangdajied a run for their money, but defeat to Nangkiew Irat and then Lajong cost them a place in the final.
Other teams struggled to make an impact and we saw some very one-sided matches over the course of the competition. There were 66 matches and 239 goals in all, giving us an average of 3.62 per game. Understandably, Rangdajied and Lajong have conceded few goals. 2017 champions Lajong have given away just three, while RUFC have conceded six.
Expect a close contest.
(TSR file photo)