Shillong, Nov 24: The quarterfinal lineup for the Shillong Sports Association's Third Division 2021 was finalised today with the conclusion of the group stage.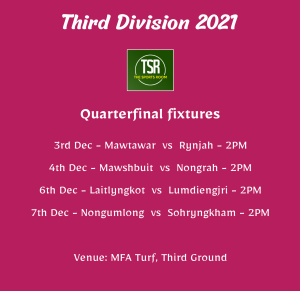 The last-eight stage sees the top team of Group A go up against the second side of Group B and the top team of Group B against the second-placed side of Group A, with the same thing worked out for Groups C and D.
TSR isn't sure how the SSA awarded first and second places in Group A, as both Mawtawar and Nongrah have the same points, goal difference, goals for, goals against and even drew their only meeting, but, officially, Mawtawar are the top team and Nongrah second.
According to the original schedule, the quarterfinals were meant to begin on 27th November but this has been postponed to 3rd December. According to the revised schedule, the semifinals will then be held on 11th and 13th December, with the final on 18th December.
All the quarterfinals will be held at Third Ground, Polo.