Shillong, Feb 22: Real Mythic (featured image) and Thunderbolt Laitlyngkot progressed to the second round on the third day of the 1st Shortimai Knockout Football Tournament, organised by the Seng Samla Smit Pyllun and Smit SC today.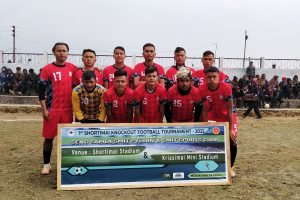 The wins, though, were of contrasting styles.
The first game saw Real Mythic dominate Mawlai Mawroh for a 4-0 whitewash. Sherborlang Kharbyngar (7′, 24′, 55′) scored the first hat-trick of the tournament, while the fourth goal was provided through Bansynran Mylliemngap.
The second of the day's fixtures was a lot closer between 7 Brothers and Thunderbolt Laitklyngkot. Shaibor Nongrum put 7 Brothers into the lead in the 37th minute but their opponents found the equaliser in the 61st minute via F Tynsong. Full time ended 1-1 but Thunderbolt Laitlynkot took the contest 4-2 in the resulting penalty shootout.
The next match will be on Saturday – Umphrup vs Umphyrnai Nongdalum at 2PM.
(Photos contributed)