Shillong, Jan 12: Manipur wrapped up victory over Meghalaya by eight wickets on the morning of the third day of their Ranji Trophy plate group match at the MCA Ground here today.
Meghalaya had already secured a place in the knockout round prior to this game but all credit has to go to Manipur for a professional batting and bowling performance.
Requiring just 17 more runs to win for a target of 29, Manipur began the day on 12/1, lost a further wicket but accomplished the task in six overs, with B Rahman hitting a four through cover for the win.
The only wicket to fall today went to Sanvert Kurkalang (1/11), with a thick outside edge off the bat of Ronald Longjam flying into the hands of Dippu Sangma at second slip. Kurkalang dropped to his knees when the catch was taken as it was his maiden wicket in Ranji Trophy cricket, with this game marking his debut in first-class cricket.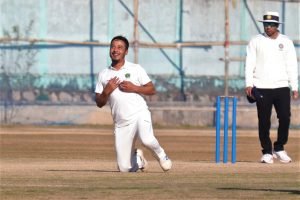 For his match figures of 8/45 (including 6/18 in Meghalaya's first innings), Manipur's Kishan Singha (pictured) was named Player of the Match.
Meghalaya Cricket Association Honorary Secretary Gideon Kharkongor congratulated both teams on reaching the knockout stage of the plate group and urged them to further raise the standard of their game.
Meghalaya qualified at the top of the group, having stormed for four consecutive victories in a highly impressive team performance. Despite today's victory, Manipur dropped to third, with Sikkim claiming second place thanks to a big win over Arunachal Pradesh. Bihar are set to claim the last knockout place as they are in the stronger position in their ongoing fixture against Mizoram.
This was the fourth of a string of BCCI matches – one in the U-19 Cooch Behar Trophy and three in the Ranji – to be held in Shillong this season and the MCA took time to felicitate all the ground staff, led by chief curator Peter Jarman Lamare, for their tremendous work in preparing the pitches and outfield to the high standards of the BCCI. The association also honoured other staff members in charge of operations, logistics, etc for their part in making all this possible.
(Meghalaya Cricket Association photos)